Project Based 6 Months Industrial Training in ERP
Best Project Based 6 Months Industrial Training in ERP

& ERP Industrial Training Institute in Delhi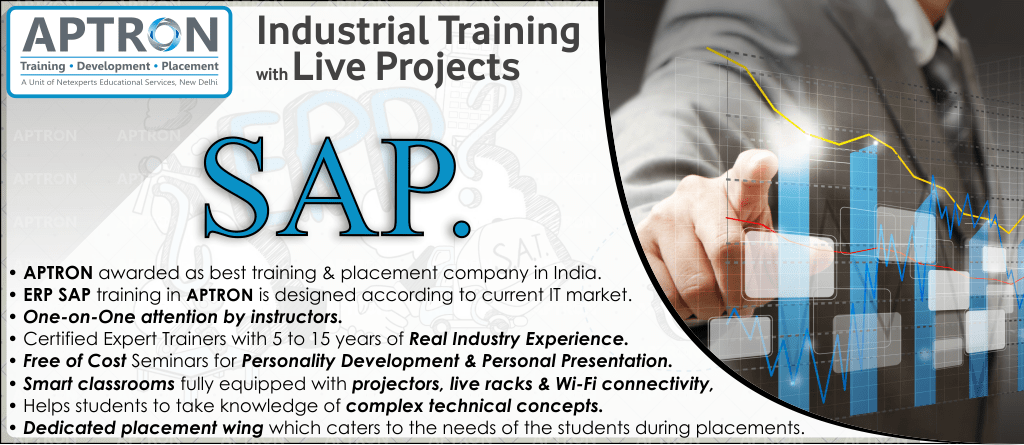 4

out of

5
based on
23
ratings.
5
user reviews.
APTRON Delhi provides real-time and placement focused project based 6 months ERP training in delhi. Our six months ERP certification course includes basic to advanced level and our 6 months ERP course is designed to get the placement in good MNC companies in Delhi as quickly as once you complete the 6 months ERP training course in Delhi. Our ERP trainers are ERP certification certified experts and experienced working professionals with hands on real time multiple ERP projects knowledge.We have designed our ERP six months based industrial training course in Delhi and syllabus based training on students requirement to achieve everyone's career goal. In our ERP training program, you will learn Components of a ERP, ERP real time project and ERP certification placement training.
At APTRON's well-equipped 6 months ERP industrial training center in Delhi aspirants learn the skills for ERP SAP Basis, ERP SAP ABAP, ERP SAP APO, ERP SAP Business Intelligence (BI), ERP SAP FICO, ERP SAP HANA, ERP SAP Production Planning, ERP SAP Supply Chain Management, ERP SAP Supplier Relationship Management, ERP SAP Training on real time projects along with ERP SAP placement training. ERP SAP Training in Delhi has been designed as per latest industry trends and keeping in mind the advanced ERP SAP course content and syllabus based on the professional requirement of the student; helping them to get placement in Multinational companies and achieve their career goals.
APTRON is the biggest live project based ERP SAP training center in Delhi with high tech infrastructure and lab facilities and the options of opting for multiple courses at Delhi Location. APTRON in Delhi prepares thousands of aspirants for ERP SAP at reasonable fees that is customized keeping in mind training and course content requirement of each attendee.ERP SAP training course involves "Learning by Doing" using state-of-the-art infrastructure for performing hands-on exercises and real-world simulations. This extensive hands-on experience in ERP SAP training ensures that you absorb the knowledge and skills that you will need to apply at work after your placement in an MNC.
APTRON Delhi is one of the best ERP SAP training institute in Delhi with 100% placement support. APTRON has well defined course modules and training sessions for students. At APTRON ERP SAP training is conducted during day time classes, weekend classes, evening batch classes and fast track training classes.
Aptron's Project-based 6 Months Industrial Training in ERP Covers the Following Modules
Industrial Training in ERP is a modular 6 months course, regularized over 5 days a week, 2 hrs a day, and exclusively includes practical sessions. The course curriculum of Industrial Training in ERP comprises:
Module 01: ERP SAP ABAP
Module 02: ERP SAP Basis
Module 03: ERP SAP BI
Module 04: ERP SAP APO
Module 05: ERP SAP BO 4.0
Module 06: ERP SAP BODS
Module 07: ERP SAP Business Intelligence (BI)
Module 08: ERP SAP Business One
Module 09: ERP SAP BW Course Details
Module 10: ERP SAP CRM - Customer Relationship Management
Module 11: ERP SAP Environment, Health, and Safety Management (ERP SAP EHS)
Module 12: ERP SAP FICO - financial accounting and controlling
Module 13: ERP SAP FSCD
Module 14: ERP SAP FSCM
Module 15: ERP SAP HANA
Module 16: ERP SAP HR/HCM
Module 17: ERP SAP IM
Module 18: ERP SAP Materials Management (ERP SAP MM)
Module 19: ERP SAP Others
Module 20: ERP SAP PI
Module 22: ERP SAP PLM
Module 23: ERP SAP Plant Maintenance (PM)
Module 24: ERP SAP Production Planning (ERP SAP PP)
Module 25: ERP SAP PPDS
Module 26: ERP SAP Project System (ERP SAP PS)
Module 27: ERP SAP Quality Management (QM)
Module 28: ERP SAP Supply Chain Management (ERP SAP SCM)
Module 29: ERP SAP Sales and Distribution (ERP SAP SD)
Module 30: ERP SAP Supplier Relationship Management (ERP SAP SRM)
Module 31: ERP SAP SuccessFactors
Module 32: ERP SAP TRM
Module 33: ERP SAP Webdynpro
6 Months Based Projects List in ERP Technologies
ERP System For Institutes
Request Tracker
The Apache Open For Business Project
OpenPSA
Dolibarr ERP & CRM
SugarCRM
Simple Groupware
Gym Master
LiberCRM
Solis Reports
Auto Project Planner
CentricWare Suite
Dolphin CRM
JumpBox for the SugarCRM CRM System
SGCE
EPESI
Help Center Live
SpiceHire for SugarCRM
Kiwi Manager
Business Information Dispatcher
DEKSI CRM for Linux
MyRent
Ajatus CRM
APTRON Project Based 6 Months Trainig Course duration for ERP Technologies in Delhi
Fast Track Training Program (6+ hours daily)
Regular Classes (Morning, Day time & Evening)
Weekend Training Classes (Saturday, Sunday & Holidays)



ERP 6 Months Industrial Training in Other Branches
APTRON 6 Months based ERP Training in Delhi